MIra Room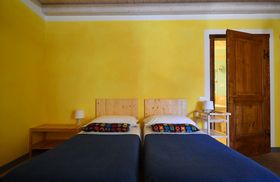 MIra is a simple and well looked room after to ensure a good rest.
MIra is furnished according to local traditions and all has an independent entrance.
Services
MIRA is on the ground floor. It has a sitting area with a sofa bed, a twin bedroom and a shower-room. It has an independent entrance and it is equipped with hair-dryer, fridge, safe, heating, air conditioning, TV SAT and Internet with cable and wi-fi. Mira can accommodate disabled persons.
Price list